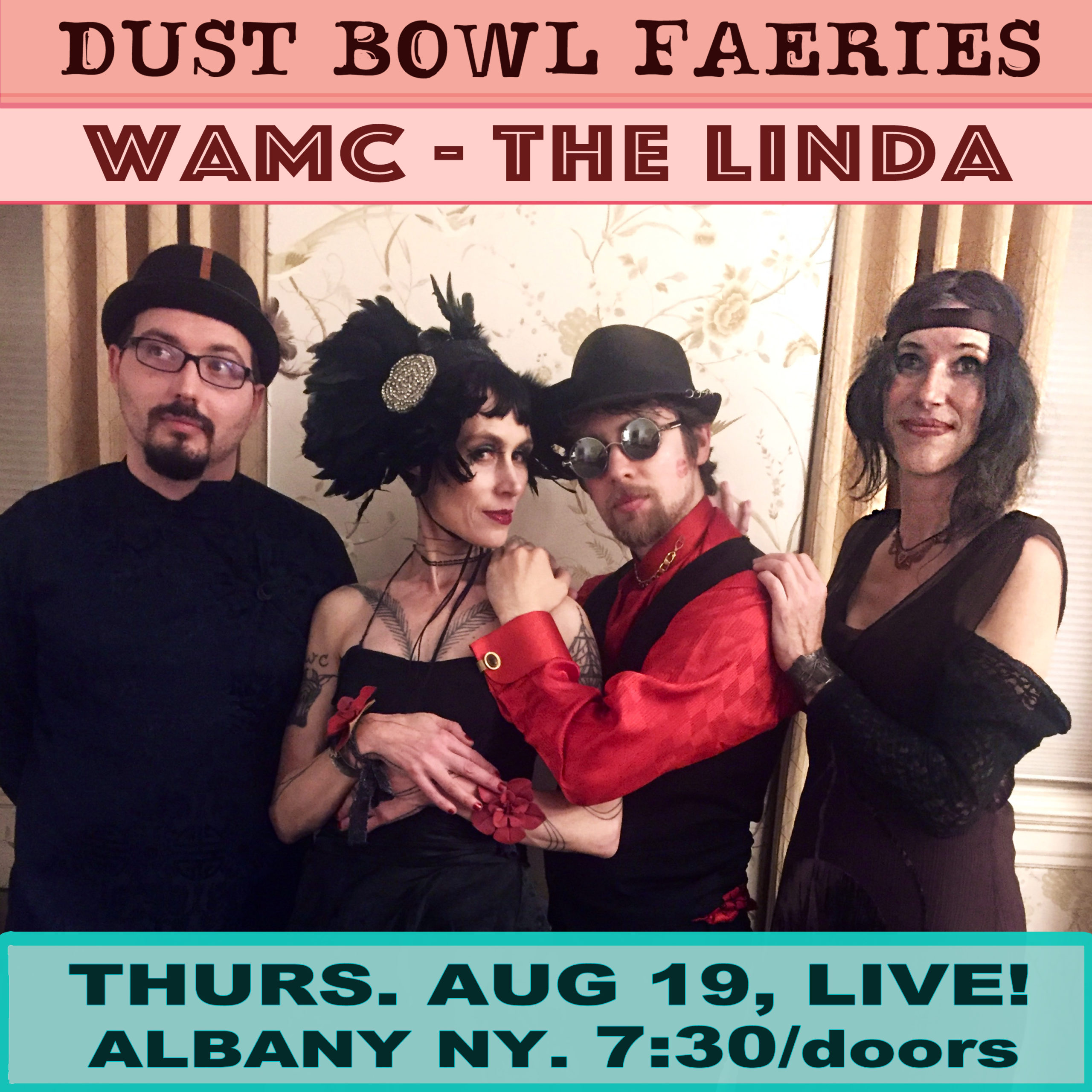 Dust Bowl Faeries – Live at The Linda – Aug. 19
The DUST BOWL FAERIES full band will be performing some new songs and a selection of their  dark cabaret favorites on THURSDAY AUGUST 19th at 8pm at THE LINDA, WAMC's Performing Arts Stage in Albany NY.
Albany based poet R.M. Engelhardt will be opening the show with a short reading of poems set to music.
Tickets are available through eventbrite for $15. Please bring your masks, the concert is indoors and The Linda is following Covid safety protocols!
Doors: 7:30
Show: 8pm
Dust Bowl Faeries – Dark Carnival Dream Music
Dust Bowl Faeries is a dark-carnival band from the New York Hudson Valley. Their eclectic repertoire of songs draw inspiration from circus, post-punk and Eastern European folk music. Accordion, singing saw, ukulele, lap-steel, acoustic guitar and percussion combine to create the Dust Bowl Faeries otherworldly sound. The band was founded by Ryder Cooley (faerie queen) and her taxidermy spirit animal Hazel the Ram. Ryder and Hazel are joined by Jon B. Woodin (rocket faerie), Rubi LaRue (feisty faerie), Liz LoGiudice (river faerie) & Andrew Stein (time faerie). Dust Bowl Faeries released a new album, The Plague Garden, in 2020. Previously, they released two EP's, Beloved Monster and The Dark Ride Mixes, as well as their self titled debut album, produced by music critic Seth Rogovoy, featuring Tommy Stinson (Replacements) & Melora Creager (Rasputina).
"The band creates sounds both mystical and ethereal and have drawn comparisons to Gogol Bordello, David Lynch, Dresden Dolls and Dead Can Dance" Stitched Sound 2020
————-
R.M. Engelhardt is an American poet, writer & author who over the last 25 years has published several books of poetry including Where There Is No Vision, Coffee Ass Blues & Other Poems, The Last Cigarette: The Collected Poems of R.M. Engelhardt, The Resurrection Waltz, Dark Lands and others. Through his ideas and visions he has helped to create a large amount of the Upstate/Albany, NY spoken word~poetry scene and is the former host of the long running "School of Night"  An Open Forum-Mic For All Poets.
He is the founder of the group Albany Poets and the creator of the poetry event The Albany WordFest.  He currently lives in Albany, NY where he writes and lives with wife writer/artist/photographer Kali.
*His new book of poetry is entitled "We Rise Like Smoke" Poems, Psalms & Incantations 2021 now available on Amazon.com through DeadMansPressInk.