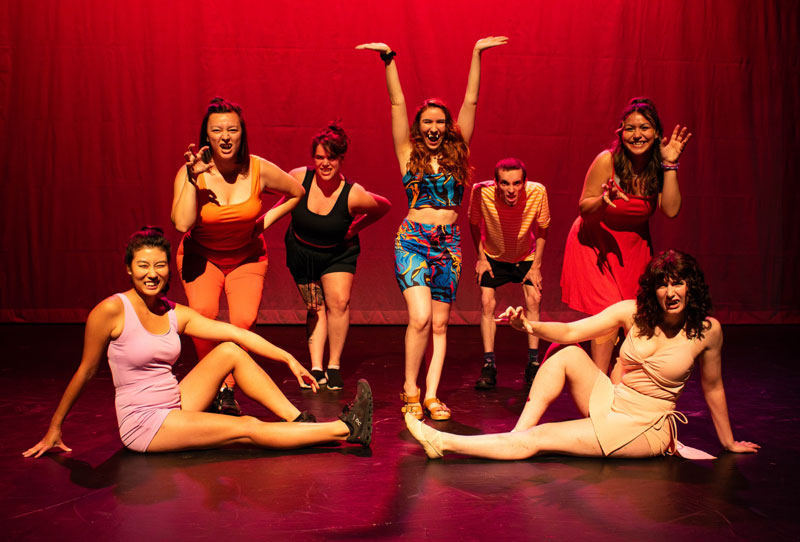 DANCE NATION
Clare Barron's dramatic comedy DANCE NATION will be performed at The Center for Performing Arts at Rhinebeck Sept. 8-10 and 15-17, with Friday and Saturday shows at 8 p.m. and Sunday at 3 p.m. A finalist for the 2019 Pulitzer Prize in Drama, DANCE NATION is a raucous pageant of ambition and ferocity where pre-teen competitive dancers plot to take over the world. Barron's "blazingly original and unsettlingly familiar" (NY Times) play explores a time in life when preteen minds and bodies are in a state of teeming flux as they peer over the precipice toward adulthood.
The main characters — an army of preteen girls — are dealing with questions of who's the best, who deserves to be recognized, what to do when the system is unfair, how to be friends and compete at the same time, how to stand up for yourself when you've been trained not to.
DANCE NATION is presented by Definitely Human Theatre Collective, a young, Poughkeepsie-based group dedicated to bringing cutting edge theatre to the Hudson Valley. Founding member and DANCE NATION co-director Vanessa Baer said, "We were attracted to DANCE NATION because of its unapologetic ferocity. The piece pushes boundaries. It defies conventions of form in a way we're really interested in as a collective."
Featured performers are Patrick Dougherty, Emily McCarthy, Camilla Motolinia, Connie Lee, Michael Friary, Mia DeYoung, Madison Cannella, Tori Lopez, and Hanna Hertzler, who range in age from 20s to 30s. "The characters are all ghosts of their former selves, haunted by pre-teenagedom. The action takes place in the past, but the play takes place in the present, showing us the grown-ups these characters come to be," said co-director Joey Taylor.
Clare Barron's plays include DANCE NATION, which was a finalist for the Pulitzer Prize for Drama, the recipient of the 2017 Susan Smith Blackburn award, recipient of the inaugural Relentless Award (2015), the winner of an Obie Award and received its premiere at Playwrights Horizons in New York City and subsequently at the Almeida Theatre in London and is now playing across the country and internationally; YOU GOT OLDER, which received its world premiere with Page 73 and later appeared at Steppenwolf (Obie Award for Playwriting, Drama Desk Nomination for Outstanding Play, Kilroys List, and Susan Smith Blackburn finalist);  I'LL NEVER LOVE AGAIN (The Bushwick Starr, NYTimes & Time Out Critics' Picks); and BABY SCREAMS MIRACLE (Woolly Mammoth, Clubbed Thumb). She is also the recipient of a Whiting Award, the Page 73 Playwriting Fellowship and the Paula Vogel Award at the Vineyard, and is a former member of Youngblood and the Soho Rep Writer-Director Lab.
DANCE NATION is co-produced with The Center for Performing Arts at Rhinebeck. www.centerforperformingarts.org/
Tickets are $25 each, available at www.centerforperformingarts.org or by calling (845) 876-3080.
AT-A-GLANCE
DANCE NATION
by Clare Barron
Directed by Vanessa Baer and Joey Taylor
Choreographed by Brooke Wallace
Date: September 8-17
Time: Fridays, Saturdays at 8p, Sundays at 3p
Venue: The Center for Performing Arts at Rhinebeck
Location: 661 NY-308, Rhinebeck, NY 12572
Tickets: $25 each
Direct link to show page: https://www.centerforperformingarts.org/whats-playing/dance-nation