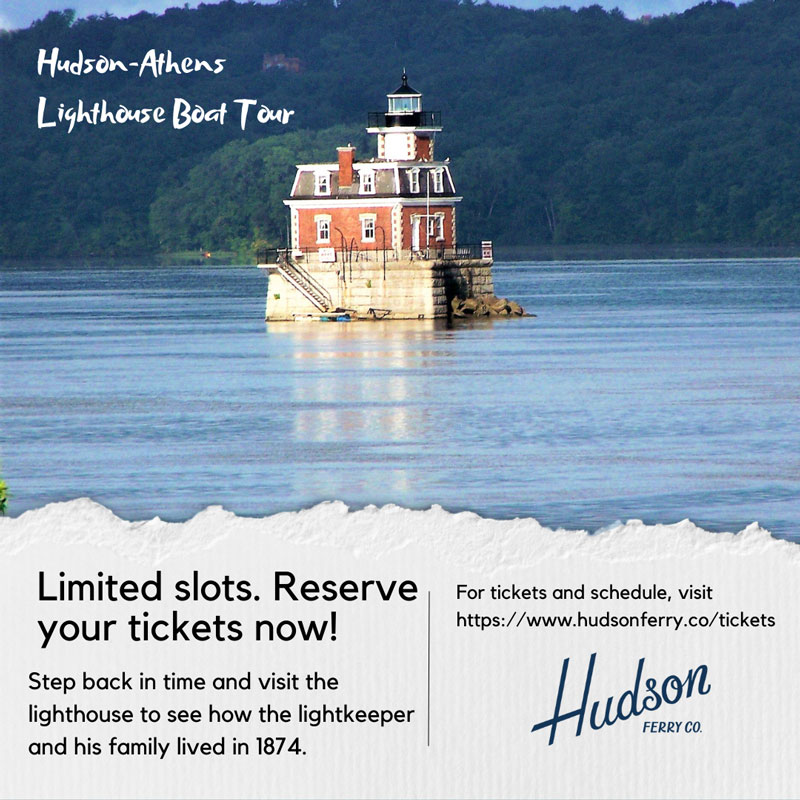 Boat Tours to the Hudson-Athens Lighthouse departing from Athens
Reserve your tickets to Hudson-Athens Lighthouse Boat Tours today! Slots are limited.
The tour offers an opportunity to learn about the important role that the Hudson River played in the development of the upper Hudson River towns and the role that the Hudson-Athens Lighthouse plays in the safe navigation of river transportation. Visitors can go back in time and see how the lightkeepers and their families lived in the lighthouse, how they made their meals, how the kids went to school, and weathered the toughest winters!
The whole tour lasts for 1.5 hours, giving visitors time to explore and go to the top of the Beacon to get a breathtaking 360-degree view of the Hudson River. Watch the video on Hudson River history narrated by Emily Brunner, who lived in the lighthouse as a child and participated in tours until her early 90s. Visitors can also see a video of the early founders of HALPS and the initial restoration of the lighthouse. Videos run on a continual loop and can be joined at any time.
See the letter from the US Lighthouse Service appointing Emil Brunner to his post at the Hudson-Athens light in 1930 and read some of the duties required of a lighthouse keeper. Children can ring the newer fog bell, and picnic tables are provided for those who want to bring lunch or just sit and enjoy the surroundings. Visitors may be surprised by cargo ships on their way to the Port of Albany, a lost harbor seal, a nesting bald eagle, a fisher climbing a tree on shore, casual fishermen, kayakers, paddle boarders, or even a deer swimming from Middle Ground Flats to shore.
Adults are $30, seniors 65+ and members $27, children aged 15 and under $20, and infants 2 and under are free. Please stop at the HALPS table on your way to the boat.
Tours depart from Athens on the following:
June 17 – at 11 am and 1 pm
July 8, August 12, Sept 9 at 10 am, 11 am and 12 pm
October 14 at 11 am and 1 pm