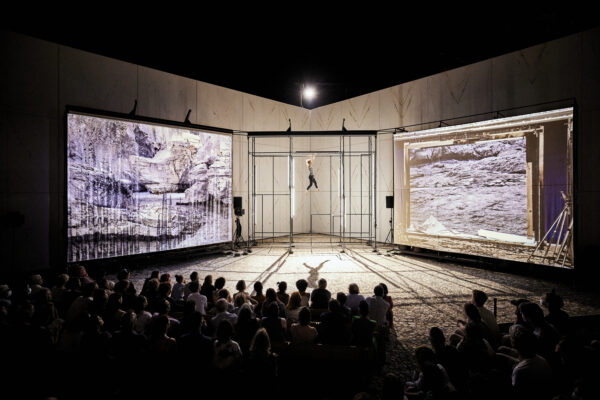 ANIMA by Noémie Goudal and Maelle Poesy
An immersive, multi-media performance installation of aerial acrobatics, photography, and projected video, and electronic music.
Fresh from the Venice Biennale 2023 and Tate Modern, ANIMA alters our perspectives on the "sensation of time" and the pace and effects of climate change.
An immersive multidisciplinary installation by French visual artist/photographer Noémie Goudal, theater director Maëlle Poésy, circus artist Chloé Moglia, and composer Chloé Thévenin, ANIMA sits at the crossroads of visual, photographic, musical, video, and scenic arts. The work is grounded in the artists' interest in recent discoveries in paleoclimatology, the study of ancient climate, whereby researchers are able to make projections about the future based on the metamorphoses and mutations that occurred in the distant past.
These extreme mutations of terrestrial topography are imperceptible to the human gaze. Through the medium of images of palm trees, rocks, caves, and water in continual metamorphosis projected onto a triptych of giant screens, Goudal and Poésy confront the viewer with an experience of human impermanence. Thevenin's music, a mix of electronics and recordings of sounds of flowing water, winds, and wildlife coalesces with the images to create a sense of the fragility of landscapes, the power of the elements, and the vertiginous nature of time.