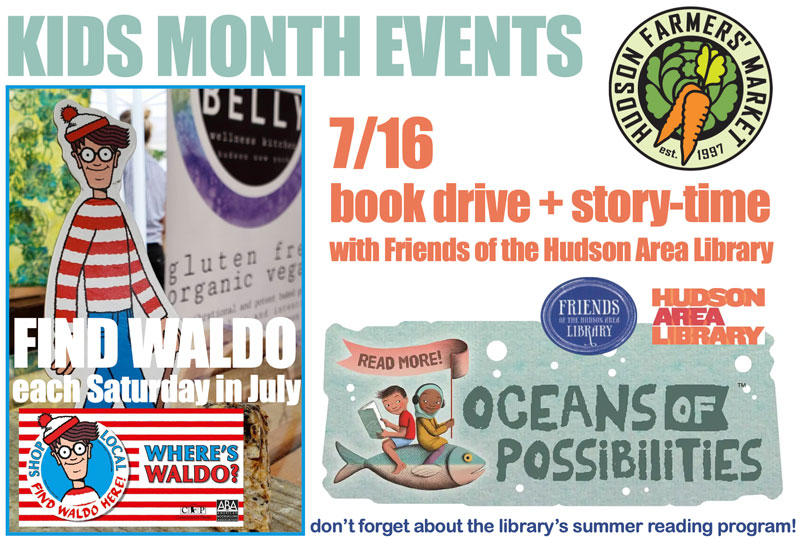 Hudson Farmers' Market – Kids Month Events: Book Drive + Storytime
We are in the middle of celebrating KIDS MONTH at the Hudson Farmers' Market! Since the beginning of July we have scheduled a few events each week that have been geared toward kids and their families. We have a couple weeks left and a great line-up of guest vendors, community vendors, and music.
On July 16th, Friends of the Hudson Area Library will be hosting a book sale to raise funds for the library. They will be reading a few books during our story-time, handing out the library's Oceans of Possibilities reading challenge, and sharing some info under our KIDS TENT!
The Master Gardeners of Cornell Cooperative of Columbia and Greene County will ALSO be with us and answering any questions the kiddos might have– think: FLOWERS, TREES, BUGS, ECOSYSTEM, DIRT, GARDENS! Parents: don't forget to bring samples of your soil if you would like a pH test. Wine Glass Full of Whiskey (with our very own Vicky from Blue Star Farm!) will be performing rollicking honky-tonk!
ALSO… don't forget, we are participating in the Find Waldo Here challenge each week of July! Waldo hangs out with a different vendor every Saturday. We send out CLUES each Friday through our newsletter and stories on Instagram. REMINDER: We are at the corner of 6th and Columbia St in Hudson. Market is each Saturday from 9am to 1pm (rain or shine)! Hope to see you all!